I live in Sydney, on Gadigal lands. I grew up in Melbourne and spent most holidays on a farm in Deniliquin, so I'm a little bit country and a fair bit city. When I was 7 my Mum took me overseas for 6 months. This is when I started a journal, getting a little obsessed with streetlights in all their forms: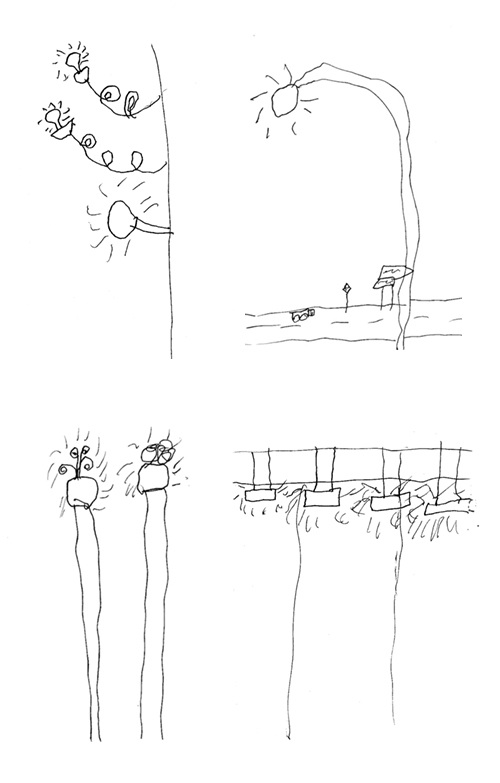 I did an honours degree at the Victorian College of the Arts, majoring in ceramic sculpture.
I then got caught up in the world of large scale street theatre, loving the immediacy and physicality of it, and worked with 5 Angry Men (you can read a little bit about them here.) On tour in Russia, we all got in costume for the finale Ship of Fools and rode bikes suspended from a Bambuco structure built on a barge that glided down the Moskva River through fireworks and a Carabosse installation that set the riverbanks alight:
I then started to write with intent, amongst other adventures…
…including spending 3 weeks in the Arctic. My father was sailing through the Northwest passage (yep, due to warming temperatures, it's now possible) in his boat Berrimilla. The plan was to rendezvous on Devon Island for a total solar eclipse. He was late, though, due to pesky ice bergs, so we met in Cambridge Bay instead. On Devon Island I stayed at the Haughton-Mars Project, a research base located a short distance from the Haughton meteorite crater.
I published an essay in Meanjin about the trip. There's a Flickr Collection of images, and some videos on this YouTube Channel including the annual polar bear swim and ice hopping in Resolute Bay.
And…
I also work with museums, galleries, libraries and archives helping to tell stories that sometimes get missed, and thinking about data and digitisation. I can often be found at conferences talking about tech and culture.
Needing an antidote to hours sitting at a desk I spent 4 years studying martial arts at the Philippine Institute of Martial Arts, which changed my understanding of the body and movement. I then dabbled in acrobatics and the art of headsprings, handsprings and backsaults.
I live with my husband and our young child.