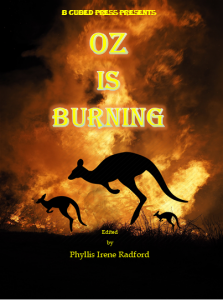 As I write this, the west coast of the US is burning. A sad synergy.
My story, 'Burning Hearts', in the Oz Is Burning anthology.
Put together by B Cubed Press, the collection is a response to Australia's 2019-2020 summer and supports wildlife charity WIRES. The ebook version is available and print is coming soon.
Here's the table of contents (which I nicked from Jason Nahrung's site, thanks Jason!):
And Gaia Screams by Ann Poore
Across the Ditch by Clare Rhoden
Burn, Burn! by Almas Alexander
Red Sky at Morning by Sue Bursztynski
Fires of the Heart by E.E. King
Pay Back by Alex Isle
By the Grace of God by Harold Gross
Should Fire Remember the Fuel by Kyla Lee Ward
Welcoming the End by Aura Redwood
Beef by Zena Shapter
The Last Wish by Lauren E. Mitchell
Wollemi Dreaming by Jason Nahrung
Firestorm Sounds by Suzanne Newnham
Red Sky, Blue Dream by Jack Dann
Infestation by Paula Boer
Writing on the Wall by Gillian Polack
Dire Insurance by Jared Kavanaugh
Divorce by Donna J.W. Munro
Inconvenient Visitor by Lucy Sussex
Burning Hearts by Eleanor Whitworth
Harvest by Narrelle M. Harris
A Town Called Hope by Silvia Brown