"… the towering aggressive structures of industry and commerce are like the clarion calls of architecture, all about us. What to do? Man is not always strident, the soul is not always in haste…" This is what architect Whitney Warren had to say about the changing architectural landscape of 1920s New York. Warren designed the New York Yacht Club headquarters. I was there in March this year with my father when he received the Blue Water Medal: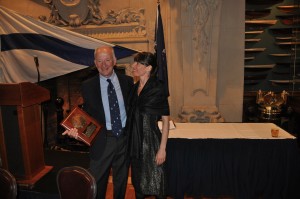 The building is both grand and whimsical. The photo above (by Alessandro Di Benedetto) was taken in the Model Room, which is topped off (yes literally) by a Tiffany glass skylight: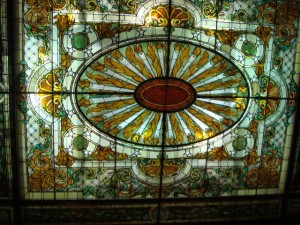 More pictures are here. Warren's comment is ironic given he was often employed by the Vanderbilts (whom he was a relative of), the Rockerfellers and Carnegies. These families – either championed as captains of industry or disparaged as robber barons – made their fortunes during the 'Gilded Age' (a term coined by Mark Twain and Charles Dudley Warner) and through their fortunes were significant contributors to the changing landscape of New York and America at large.
The Guilded Age occurred at the end of the 19th Century and marked the beginning of the modern industrial economy. We're now in the early stages of the 'Information Age', which is also linked to economic growth through population increases and technological development. Hopefully any corresponding economic downturn won't be as severe.
I went from New York to New Orleans, arriving for Lundi Gras, the night before Mardi Gras (or Fat Tuesday being the day Roman Catholics finished their rich foods prior to Lent). New Orleans has a relatively large Catholic population and many people observe Lent. It's the Evangelists, however, who are most visible on the streets… amongst others…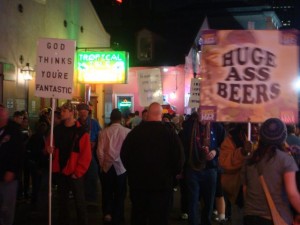 Staying in a friend's beautiful 1815 Creole cottage in the French Quarter meant that much of the action was close to home. Festivals are a boon for the senses, and when I heard this through my bedroom window I had to investigate. Note: this clip is all about audio not visuals!
Mardi Gras in the neighbourhoods starts early and everyone participates: you don't watch the parade, you are the parade:
A few days after Mardi Gras, whilst waiting for my friend, I got talking with a man. After a bit he told me he was "fresh out of 10 years in a concrete box." He'd been shot several times and walked with a cane. Having just read Dave Eggers's book Zeitoun I asked if he'd been caught up in the temporary holding of prisoners at Union Station after Hurricane Katrina. He said: "No, I was lucky." We laughed.
Two days later, I was in Union Station. Eggers relates, via Zeitoun's experience, how the station was turned into a martial zone. He describes this section of the mural, which Zeitoun studies as he ponders his fate and waits to be processed: "Zeitoun looked up at it, and though he had been to the terminal before, he had never really seen this mural. Now that he did it was a startling thing, a dark catalogue of subjugation and struggle… Just above him there was a lion being attacked by a giant eagle made of gold…"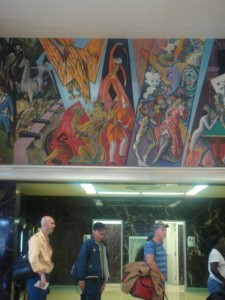 The last time I was in New York I was there for the anniversary of September 11. A 'live' replay of that morning was running on television. It was an eerie experience. Waiting in Union Station felt similar. The ghosts of old felt very present.